There is just something about Cornish. It's there in the stillness, the roll of the landscape and how it catches a glow more softly, gently, than in the darkly rocky spots that mark much of the Granite State. Driving south on 12A, I feel it so strongly that when I arrive at the home of Harry Bliss and find the artist and
New Yorker
cartoonist on a deck that gives out to a spectacular, golden view, the answer to my first question seems so obvious, I feel a little dumb asking. 
"Why Cornish?" 
Bliss can't quite remember, but it was five or six years ago, when he was living in South Burlington, that he saw a post from his friend and
New Yorker
colleague Nancy Franklin. She was surprised the former home of J.D. Salinger was still on the market, empty after almost two years. Intrigued, Bliss decided then and there to check it out. "I had nothing better to do that day," he remembers, "I just drove. As soon as I got to Plainfield, I thought
this feels really good
. Then, the further up the mountain, up this road, it felt better and better." 
There are some who believe that certain spots on this earth—energy vortices they call them—hum with a concentrated spiritual and/or inspirational buzz. Whether or not that sounds right to you, it's hard to deny the feeling in the Cornish air, something Bliss felt compelled to share.
His original plan was to recruit a collective of
New Yorker
artists and form a kind of cartoonist's haven; the co-owners could come and work and go as they pleased. (This without knowledge of the storied Cornish colony led by artists Maxfield Parrish and Augustus Saint-Gaudens.) When that didn't happen—"no one really wanted to," Bliss recalls, "so I thought 'fuck it, I'll buy it myself"—he came at the idea from a different angle, and approached James Sturm, co-founder of the Center for Cartoon Studies in White River Junction. With the support of donors including the writer Neil Gaiman, Bliss and the school introduced the Cornish CCS Residency Fellowship. Winners of the annual award receive a stipend and an October stay in the small guest house on the Cornish property. 
It's fun to think of these artists from far-flung corners—Chicago, Berlin, Australia—landing in such a singular spot. In 2016, the inaugural recipient was Nick Drnaso, who would go on to become the first graphic novelist to be awarded a Man Booker prize. Drnaso's work is haunting, otherworldly; in a promotional film for the fellowship (made by Bliss's son Alex), he likens living in the guest house to "a spaceship kind of feeling." The 2017 winner, Ali Fitzgerald, now a frequent
New Yorker
contributor, says "it's a luxury
and
a necessity to have this time to do some deep research, some deeper thinking…I don't know, the woods are pretty."
 "I want to give back," says Bliss, who then winces at the phrase and self-corrects, "Not give back—I just want to
give
. It's basically a reward, it's like 'you win!' Because graphic novels are so hard." Bliss, whose own work consists mainly of the one-panel cartoons for which
The New Yorker
is renowned, is clearly in awe of the work that goes into graphic novels, but he's even daunted a little by the prospect of multi-panel strips. "I'm 57," he declares, "I don't really want to work that hard anymore." 
Which seems fair enough, given the lifetime of hustle and relocation that's preceded his arrival on the top of the hill. 
Born in Rochester, New York, to a family of artists, Bliss knew early on one could earn a living making pictures. "My dad was a graphic designer; he did illustration work, too. He did a TV Guide cover, he did work for Kodak and French's Mustard." But while Bliss says his household didn't distinguish between high art and what some would call low art, and though he admits to a love of
Peanuts
and
Pogo
and
Popeye
, it was the high art that first called his name. "I didn't want to be a cartoonist," he says, "I wanted to be a painter. My first love was Impressionism, post-Impressionism, Picasso." He went to art school in Philadelphia, but when painting didn't work out, he got his masters in illustration. He taught in Philly as well; it wasn't his forte. 
"I taught an illustration class," says Bliss, "And during the live drawing part of the class, they would take long extended breaks and go outside and smoke—and I would sit down at their tablets and finish their drawings for them, because I was angry. They would come back and say 'what did you do?' and I'd be like 'well, I didn't want to waste the time.' They really didn't like it." In addition to ill-conceived lesson plans, there was freelance work—illustrations for
The Philadelphia Inquirer
,
Business Week
,
GQ
, and book jackets for mysteries ("which was kinda fun, a good gig"). There was also a fair amount of waiting tables and, after a move to Nyack, New York, thoughts of giving up. Then inspiration arrived, from an illustrious source. 
"I was in a rare bookstore with my son, who was probably three or four at the time," Bliss remembers, "And I picked up a book of Charles Addams cartoons. So, I take the book and go to a park. My son's running around and I'm starting to look through the cartoons and I'm just, 'these are really good.' They're funny, they're timeless and the drawing is so great. And I had a little epiphany." Friends had long suggested he send his work to
The New Yorker
; that day he went home, knocked out five Addams-inspired sketches, and sent them off. They wound up with the magazine's art editor, Françoise Mouly, who wrote back asking for more. Bliss still has the letter.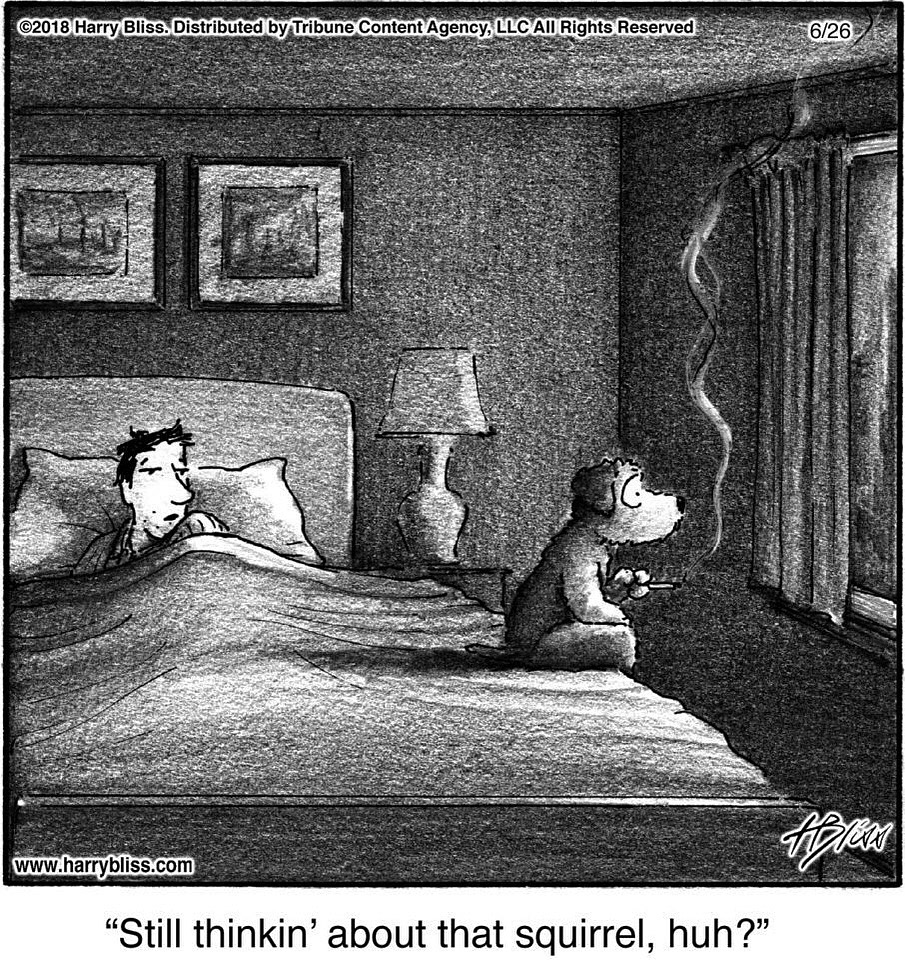 His first

New Yorker

cover was for the '98 New Year's issue, neatly symbolic for a fresh start. "I pulled myself out of bankruptcy, practically," says Bliss of his first couple years at the magazine, a reprieve that freed him to hit his stride. A steady stream of

New Yorker

covers and cartoons followed, as well as illustrations for award-winning children's books; an eponymous series of one-panel cartoons in international syndication; and, at the end of last year, the publication of

A Wealth of Pigeons

, a collection of cartoons and comic strips with Steve Martin.
There is something deeply satisfying about the collaboration, as if two mutual friends fell in love and had a cool kid. In this case, it was Mouly who played matchmaker, after a cocktail party where Martin expressed his urge to explore what he calls "comedy's last frontier."
"I think she knows I love to collaborate," says Bliss about Mouly, "and she knows if someone has something they need drawn well, I can do it." It's true that Bliss, academy trained, differs from many cartoonists in that, in addition to having his own instantly recognizable style, he is an excellent mimic, rendering à la Addams, Jack Kirby, Charles Schultz, even, as Martin has said, Rembrandt. For his part, Bliss appreciates Martin's expertise. "He has a really great eye," Bliss says, "he's able to look at my drawings and pick out things, real subtleties, most people don't."
The panels in

A Wealth of Pigeons

range from wry to laugh-out-loud, the product of a give-and-take, entirely over email, that alternated between ideas Martin sent for Bliss to draw out, or drawings that Bliss sent to Martin for captions. On the deck in Cornish, Bliss humors me as I take a stab at guessing which are the latter. I only go about 50 percent, an indication of just how well their two styles blend. Another collaboration with Martin is in the works. The next one, however, is almost entirely comprised of the dreaded multi-panel strip. "They're two and three-page strips, so these days I'm forced to do them, and I like doing them, but all the drawing and the layout, they're

hard

."
Because, really, one gets the sense from talking to Bliss that—these days, in this place—he would rather just, you know, bliss out. Over the course of our talk, things return repeatedly to the idea of a meditative state, a flow with the work, with nature, with whatever it is rolling around on that hill. He speaks of "finding the breath" in drawing, and his hopes that fellowship recipients are able to come and "just

exist

." In the almost Escher-like assemblage of small rooms and stairs that is the main house, he proudly shows off a new acquisition—a landscape by the painter Frederick Mulhaupt that radiates focused contemplation. After careful consideration, and consultation with the actor Peter Coyote, he is experimenting with psychedelics. "The end game," Coyote told him, "the long game, is meditation." The perpetual quest for communion is what makes Bliss an artist, after all, like Parrish, Saint-Gaudens and Salinger before him. He's certainly found the perfect spot for it, there in Cornish, where beauty and energy merge.
Hazel-Dawn Dumpert is an experienced journalist who's written about everything from film and music to figure skating and bald eagles. Her work has appeared in, among other publications, The Guardian, Film Comment, The Village Voice, and Yankee.