It's a sunny-grey afternoon in August. The last two days have been plagued by rain, bringing a much-needed respite to this scorcher of a summer. The inclement weather, however, has put a kink in plans to run through the newly-discovered setlist of the band Britton and the Sting. They've come to the sprawling, tree-lined hills of Vermont to perform at JAG Productions'
Theatre on the Hill
and launch the 2022-23 season. 
Behind the King Arthur Baking Company's headquarters, a stage has been erected. Lights and sound, because of the lost time, are attempting a cue-to-cue in preparation for the final dress rehearsal that is to happen tonight. With the weather finally cooperating, Britton Smith, the band's frontman and namesake walks up the hill overlooking the stage, his gait slower than usual.
Britton is the type of performer that leaves it all onstage, whether it's a rehearsal or opening night. Not two hours before arriving at the hill, Britton did a full-out run-through of the show in a nearby rehearsal room at Northern Stage. He sighs as he sits in the chair opposite mine. Having watched the run-through, I know exactly where the sigh is coming from. We start with a check-in. I ask how he's doing. He hesitates, more so due to his energy level than anything else. He locks eyes with me, and holds my gaze, a smile forming. 
"I'm anxious to share. I'm frustrated by the rain a little bit for keeping us from the stage, as we had hoped. But I also feel very content that we're okay. And covered by the same thing that got us here." 
The "coverage" Britton often talks about is provided by God or the universe. (He uses the terms interchangeably.) And with his music, he's here to make sure his audience knows that they can, too.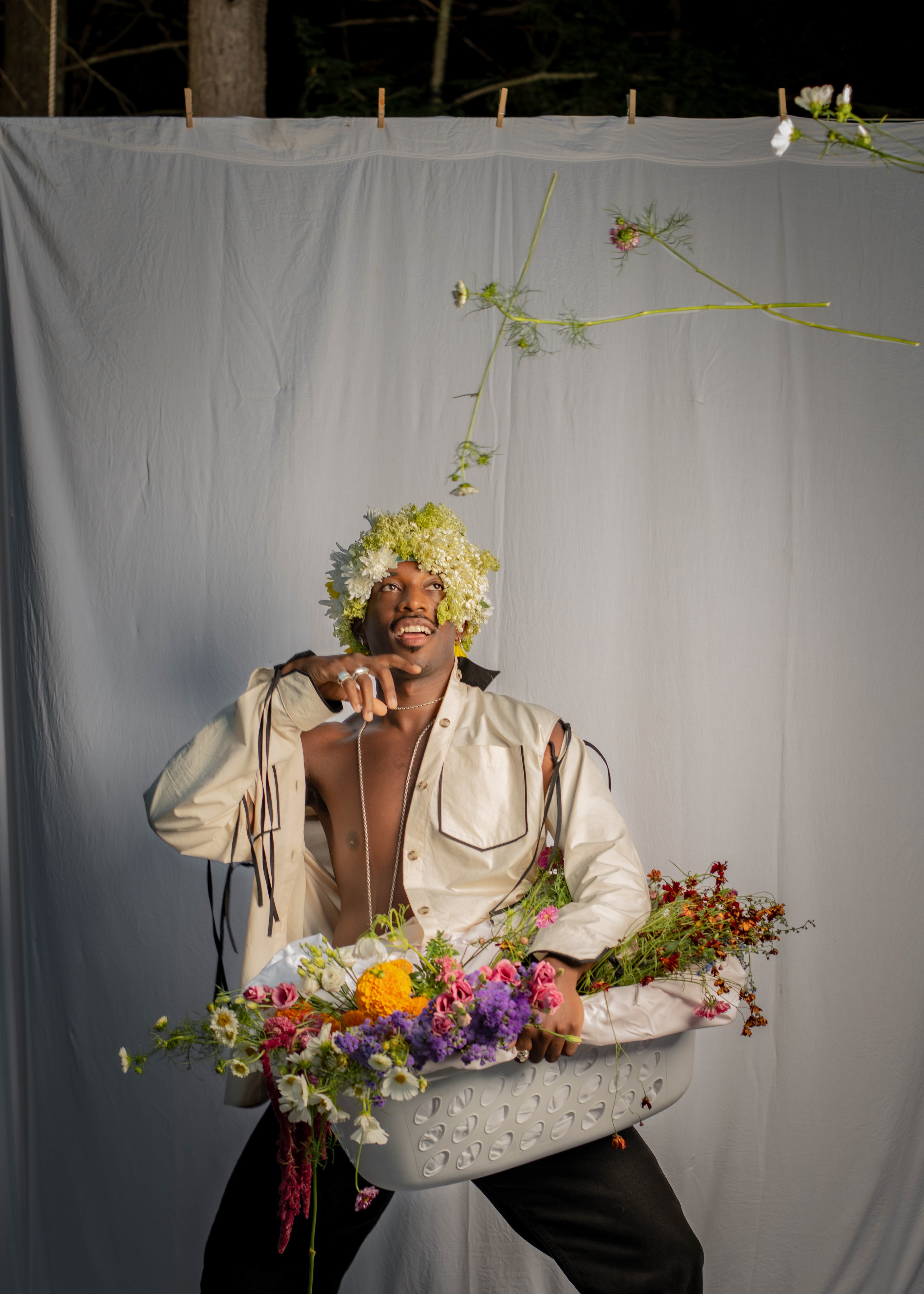 For every person who knows Britton Smith, there is a different way of knowing him. He's a Broadway actor. A funk-liberation bandleader. The president of Broadway Advocacy Coalition, for which he received a special Tony Award last year. To me, Britton is a friend. When I met him, some fifteen years ago, he was just as ambitious and heart-forward. A little more guarded than he is currently, but the star-power was just as undeniable. Some who see Britton's success might wonder where he gets off writing inspirational songs. But rest assured, Britton has experienced his fair share of hardships. 
"Most of the songs people hear come from a place of me weeping. And despair and hopelessness. Like, dark. Like, what the fuck? Like, what am I gonna do?!"
But music has always been his saving grace and security blanket. Britton attributes growing up in a COGIC (Church of God in Christ) church, just outside of Dallas, as what helped him develop his musical sensibility. 
"Music was a center of excellence at our church," he says. "It was also a place where I started to feel myself a little bit like, I can sing!" That, he can! If you've spent any amount of time around him, you know that songs are often born out of thin air, made up of phrases or sentences he hears out in the world. The other night, while waiting for dinner, Britton began improvising a song about how hungry he was. Soon, all the dinner guests were joining in. I've seen this superpower unlock, not only hearts, minds, and stomachs, but professional and systemic doors. It makes sense when Britton says that God lives in music. 
"Instead of clinging onto a hand or some savior, music is there." As he sings in one of his songs, Britton often writes his own key. 
It's no wonder that he was destined to start a band. But as he tells it, it was a confluence of moments that snowballed into opportunity. As a practicing Buddhist, Britton engages in ritually writing his desires out on notecards and placing them on his altar. Then, he chants, knowing that God/the universe has his back and is making a way for what he wants. This is how he, unknowingly, named his band. 
"I wrote down Britton and The Sting because Britton— the actor—wanted to be in the show, The Sting."
It wasn't until a fateful cab ride that all the pieces came together. 
"I was in a cab and this driver was driving kinda weird. He was, like, falling asleep. And I was like 'yo, don't fall asleep! I'm gonna be famous one day.'" Britton continued, "He laughed, I laughed. And then he said, 'let me see your hand.'" 
The cabbie then read Britton's palm. Mystical, sure, but Britton sees opportunity in connection. Every interaction is a potential holy land. The cab driver became Britton's mirror. Told him about himself. So much so, that Britton began to weep. 
"And the cab, I swear to God, felt…it shifted." 
The cabbie was unaware that Britton had written the question: How do I share my music? on a notecard and placed it on his altar. "Then, the cabbie said, 'do you have a band?" Britton's fingers go to the corner of his eyes, as he mimes tears flowing down his face. "And I said, snotty nosed—'No, I don't have a band.' And he goes: 'You need a band!'" The rest, as they say, is history. 

As the opening production of JAG Productions' seventh and most ambitious season (including a world-premiere production of a play by yours truly), Britton and his band members, Josh Dawson (keys) and Josh Roberts (drums), were offered a residency in the Upper Valley. They have hoped to use the time away from the hustle of New York to figure out an emotional and narrative throughline to their music. They also hope to elevate their musical transitions. After almost a month of communing with nature, rehearsing, and delving into their set list, they stand only feet away from the finish line. 
When asked whether or not performing outside proved to be frustrating (remember the two days of rain which delayed tech), Britton countered. "I tend to want to control. And nature is perfect and powerful and I can submit to its power and its control. Or I can make a choice to be, like, upset by it. But it's doing what it's supposed to do." 
Even if most of the songs were written in New York City, nature has always played a pivotal role in The Sting's music. With songs like "Bird Vibes", "Burn" and "Water Run", the elemental is a theme from which the band continues to draw inspiration. "I'm still learning from it," says Britton. "And I'm still discovering. And Vermont revealed why nature is in our music. I knew that water was a thing to purify and to flow. But sitting in a river singing "Water Run"—it's like, ah, water is endless. It doesn't begin or end, it flows. It obeys the wind. It carries. It's soft, it's strong. It literally smooths the rocks. There's so much in the water." 
But like everything in this world, peace has its inverse. Similarly, Britton finds there's something to be learned from devastation. His song "Burn" asks the listener:
What would you do if you had the chance 
To purify it all, start again? 
What if the world burned tonight? 
When I ask him what inspired such a straightforward inquiry, a reckoning in the lyrics, his gaze went to the ground. ""Burn", um, was written after, um, me and my husband—ex-husband—were divorced." I could tell that Britton, who is the definition of a lover, was experiencing something akin to pain while talking about this song. But, like the minister he is, he used his pain to illuminate a lesson. He went on, "I kinda had it in my head that that love was going to save me from the lack of love I had growing up. Like, once I have a husband I'll have everything I want. I was so sure that this was my thing and it wasn't. So, it kinda burned down this house." 
With therapy and time, Britton has learned to let go of the past. And by turning personal tragedy into something by which to minister, Britton helps lull the audience into a state of radical transparency. Which, if you ask him, feels like the right medicine for the moment, like a necessary call to action. "It activates something in me that reminds me, like, 'yo, Britton, there is a list of things that you could say are fucked up about the world. If it burned down and you were given the keys, what would you do?'" 
As Britton is called to the stage to continue sound check, it is then that I take the opportunity to remind him of how long we've known one another, of how old we've become. He, true to fashion, countered with praise. "You've been the same bitch since I've known you! Yes, we all shift and change. But your core is the same." He got quiet and leaned in. "I know your mom's passing shifted you. It'll shift anybody. But your core is still the same." This is the type of friend Britton is, the reason I call him Pastor. It's also what makes him such a great artist: his radical authenticity combined with his penchant for ministry, no matter the time or the place. 

Keelay Gipson

is a writer, educator, and activist based in Brooklyn, NY. Keelay's work sits at the intersection of Blackness and Queerness.