It can be difficult rolling into a small New England town as a touring musician and getting an audience, but as a musician playing experimental, genre-less, "inter-dimensional" music, it can be nearly impossible. So Human Host is turning to the public airwaves. 
Human Host, a project of artist Mike Apichichella's, is "an ever changing ensemble made up of multi-media artists and figments of your imagination," and White River Junction is always one of his tour stops when he's on the road. Thanks to Mike's relationship with CATV8's Studio Producer & Education Outreach Coordinator Chico Eastridge, Human Host will be performing an hour-long live concert, musical variety show at their studio.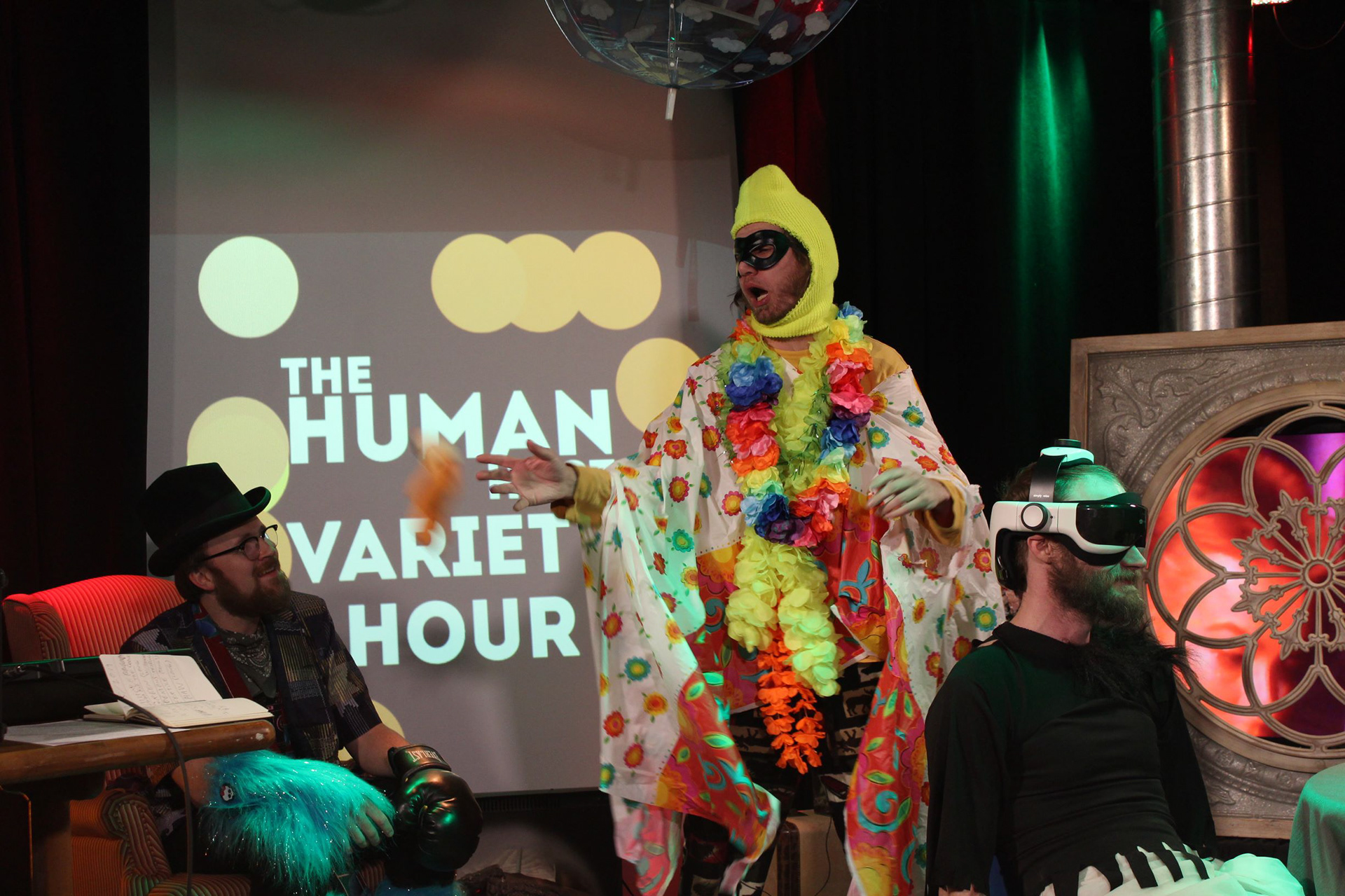 Originally, Human Host was looking for a typical music venue, a place to play its 2018 release "Special Moments with Muckle Flugga & The Cronk," but the live televised variety show concert was born out of a compromise, Chico said. 
"It's hard to get people out to shows here," Chico said. "It's not the greatest place for a touring musician to stop, but Mike really wanted a show up here, so it was like, how about we do a TV show?"
Chico and Mike became friends around 2006. A fellow musician, Chico played drums in a band called The Real Life Time Machine, who were often playing the same same shows as Human Host. 
"[The Real Life Time Machine] is still one of my favorite bands of the 2000s," Mike said. "Easily one of the best bands to come out of that entire era of music, which is a pretty awesome era of music, at least as far as experimental music is concerned. They were playing experimental music that was just unclassifiable and very chaotic and their live shows had ridiculous performance-art spectacles. So inevitably we ended up getting booked together."
With Chico now doing the booking at CATV8, the studio seemed like a perfect place to showcase more than just an artist and their album. Mike said it's the first time Human Host has done a live video performance, but Mike is up for the "spontaneous collaboration" and "improvisation" the night will bring.
"When you're doing a project with things that can't be seen and things that can't be touched, and all of the sudden you're thrust into a position where you're going to be completely having people really watching everything you're doing for an hour, you've got to come up with things that symbolize the unknown," Mike said. 
For Chico, the project is a way to introduce White River Junction to different kinds of music and new experiences because "there's not really an elevator pitch for Human Host."
"I'm always willing to help out travelling musicians, but especially weirdos like Mike," Chico said. "There will be music. There will be interviews. There will be tears. There will be laughter. And there will be hijinx in between. It will be on the record forever as long as the internet lasts. It should be fun."
Isaac Lorton is thrilled to be writing, editing, and photographing in the Twin State region. Simply, Isaac is happy to be here in this place at this moment with this group of people.