When the Dartmouth Bookstore closed at the end of 2018, it left a hole in downtown Hanover—not just in the giant building where it was located, but in the lack of a bookstore with enough social space to meet for a coffee or sit and read for awhile (with no disrespect to Left Bank up the road, which specializes in used, out-of-print, and rare titles).
Enter Allie Levy, a Dartmouth grad with
a background in media and publishing
, who was yearning to move back to the Upper Valley. Levy's Still North Books & Bar opened in December to an Upper Valley community eager to receive it.
Walking into Still North midday on a Friday to meet with Levy, it was excitingly busy, each meeting space filled, and many of the countertops and tables occupied. People were working on laptops, drinking coffee, and, naturally, reading and browsing the thoughtfully selected and arranged titles.
Now open for a little over a month, Still North is thriving. Levy recently expanded to a full café menu with food, beer, and wine, and extended hours from 10am – 10pm Monday through Saturday, 10am – 6pm on Sundays.
Levy took a few minutes to chat with me about the highs and lows of small business ownership, unique aspects of the Upper Valley community, and, of course, all things books.
Taylor Long:
I know you have a background in publishing and media, and I saw that you worked at a place in Denver called BookBar; you've talked about that being an inspiration for the idea [for Still North]. I'd love to know more about why this idea and why Hanover, specifically.
Allie Levy:
So, I was living in New York, working in publishing, and I had started to visit the Upper Valley more again –
Taylor:
Right, because you went to school at Dartmouth, right?
Allie
:
Yeah, I was a Dartmouth Alum. So, after moving back out east from Denver, I started visiting the Upper Valley and just re-fell in love with the place and thought, "I would love to live up there." At the same time it felt really sad to me that Hanover didn't have an independent bookstore that sold new books. Even though Barnes & Noble and Left Bank were here and Norwich [Bookstore] is across the river, and they're an amazing indie, it felt so strange to me that Hanover was lacking an independent selling new books. And it also seemed like there was a slight lack in terms of cozy places to grab a coffee and sit on a comfy couch. So, I had started to think about the idea of doing a bookstore or a bookstore/café and bar in Hanover, but at the time, the Dartmouth Bookstore was there. But, a few months later, I learned that the Dartmouth Bookstore was closing, so I started to work on finding out if it was viable and it went from there.
Taylor
:
You wrote a letter to the editor in

The Dartmouth
about the idea of catering to students but also not catering to only students because it's not just a student population. I do think that is, sort of, the trouble with this town, also sort of the happy part—you have this inherent population but at the same time, they're only here for a portion of the year, and there's also this other population that exists. I'd like to know more about what you see as the role of Still North for both of those groups.
Allie
:
I feel like when I was a student, there weren't a lot of places where students were being in the same place as the community. 
Even if I was out somewhere in Hanover, it felt like it was still focused on students or there were places that I didn't go, not because they were more focused on community, they were just places I wasn't aware of—
Taylor
:
Or maybe you didn't feel quite as welcome, perhaps?
Allie
:
Yeah, or just didn't want to go. And I feel there has to be room for a place that can be welcoming to students and welcoming for the rest of the Upper Valley. I didn't come back because I loved Dartmouth, I moved back here because I loved the community. I feel like I'm most grateful to Dartmouth for introducing me to the community, and that's one of the best things that I took out of my Dartmouth experience. So, every decision that we made, down to the design of the place, what I wanted to name the store, I was like, how do we let students know they're more than welcome here, but also make it a place that's super appealing for everybody in the area?
Taylor:
So, how did you come up with the name, by the way?
Allie
:
So, it's from the Dartmouth Alma Mater.
Taylor
:
Oh, I didn't know that! 
Allie:
There's a line that's very sentimental but I like the sound of it, even though it feels a little cheesy and sentimental to me, but it's, "They have the still north in their hearts." I liked the sound of the words still north, it felt peaceful and cozy. I had criteria for what I wanted in the name. I wanted there to be a slight Dartmouth nod that wasn't aggressively Dartmouth, I wanted it to feel tied to the land and the landscape, because that's a huge part of what I love about the Upper Valley, and I wanted it to communicate what we're doing. And the very first name I came up with, before I had even decided what my criteria was, was Still North Books & Bar, and after a million other possible names, I went back to my original list and realized that very first one had all three of those things in it.
Taylor
:
I never would have known that that was a reference.
Allie
:
That makes me really happy
Taylor
:
That's so cool, I love it even more now. So,
in other interviews with you
that I've read, you've talked a little bit about the rise of independent bookstores, and I have my own reasons why I still love to buy a hard copy book as opposed to a kindle — for me, number one is that I'm already staring at a screen all day as part of my work, but I would love to know your take on why you think, in this ever digital age, that brick and mortar stores and hard copy books are still thriving. 
Allie
:
I think that part of it is definitely the book as object, and it's something I've realized more and more as I've been working on this. I've been reading less than ever, which is very sad on one hand, but at the same time, I'm realizing part of my love of reading is about my love for books as an object. So even though I'm not reading these books, I still feel good to be surrounded by books, and I know that eventually I'll have time to read again –
Taylor
:
Yeah, you know, you've had some things going on…
Allie
:
In the meantime, I feel like there really is something about holding a physical book. And I think the other part of it is the fact that people are looking for this idea of a third place where they can come and spend time out in their community, it's not home, it's not work. I think that bookstores are naturally really suited to that, they have a long history of being centers of community and discourse. Now that more and more kinds of retail establishments are looking to create an experience, it's something that bookstores have been doing all along, so they're uniquely suited to thrive in this era where you have to be doing something more than just putting things on shelves and selling them.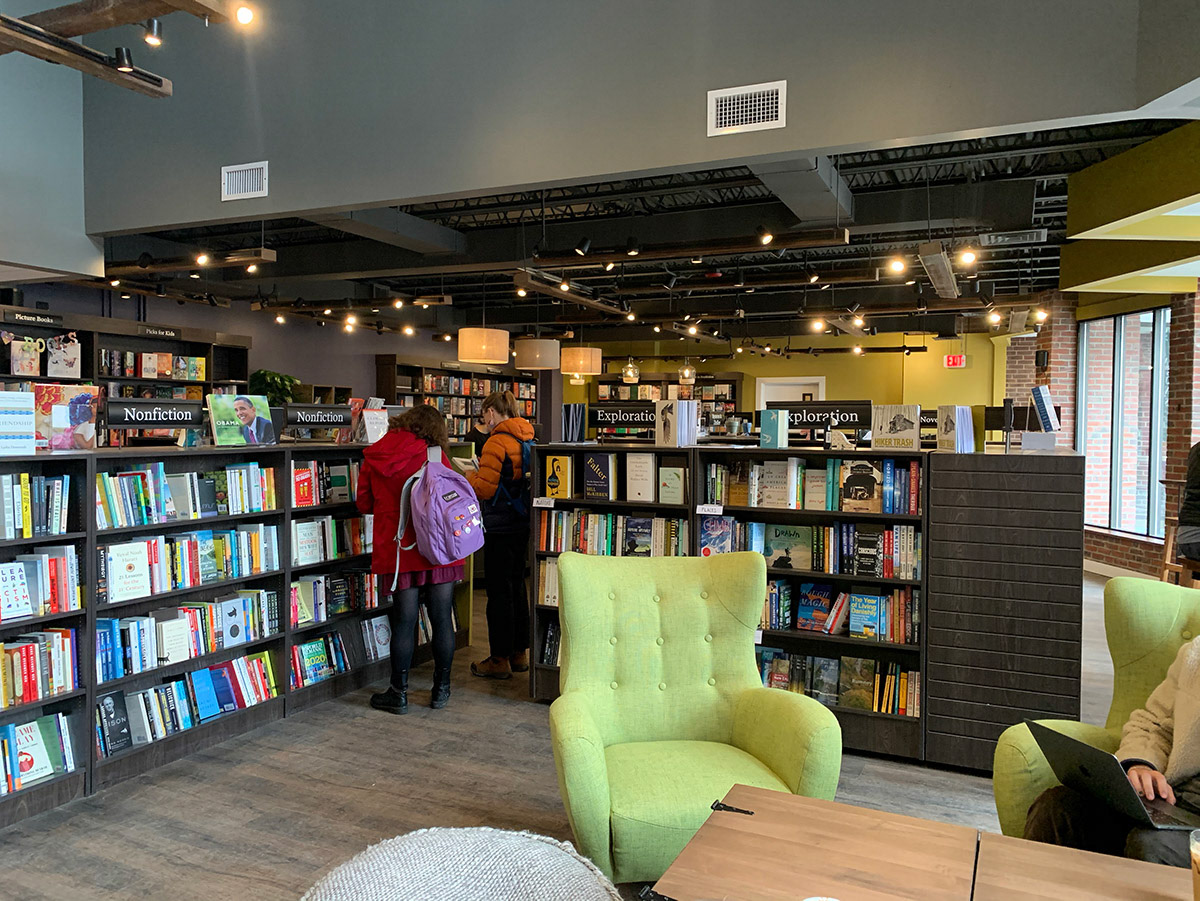 Taylor
:
As sort of a side note to that, I'm originally from Seattle, and I went home over the holidays, and the one present that I knew I had to get was a book because a friend and I exchange the best thing we read that year. I didn't want to go to the local Barnes and Noble so I drove in town to Elliott Bay, which is a really well-known store in Seattle—
Allie:
Oh awesome, I've heard amazing things about them.
Taylor
:
Yeah, and it was Christmas Eve so I was wondering, what's it going to be like and it was packed, and it was awesome to see. I had to wait in the longest line to check out and it made my heart so happy.
Allie:
That's how it was here, too. Everyone says that Hanover dies over the holidays because the students are gone, but it was so amazing to see that there are still so many people here who want books and a place to be.
Taylor
:
And I think, too – yeah, there's a convenience to Amazon or other online retailers where you can get it shipped to you, but at the same time, you're also paying for shipping. So I think there's that thing of, when there's a place to acquire something and you don't have to fill out a form online, it's easier in some ways and you can also support something local and something exciting. 
Allie:
Another thing that bookstores are doing is allowing for discovery—that's such a buzzword among indies. We've created our sections so that discoverability is very front and center. So instead of having a section for nature or travel or natural sciences, for instance, we have our exploration section where we group all of them together, and it helps people discover a book that they may not have been looking for. We get to have fun as an indie—there's a book called
Fire and Furry
, which is a pet parody of
Fire and Fury
, and I've decided I'm not putting that in pets or humor, I'm putting that in politics, just to have fun with it.
Taylor
:
Yeah, absolutely. And you know, talking about books as objects and that tactile nature of it, I'm a big Jeff VanderMeer fan, and I preordered his new book [
Dead Astronauts
], and I took the cover off, and it's such a beautiful object, and it is that ability to walk around and see these eye-catching, beautiful things, see a brightly colored spine and be like I need to see it, I need to hold it.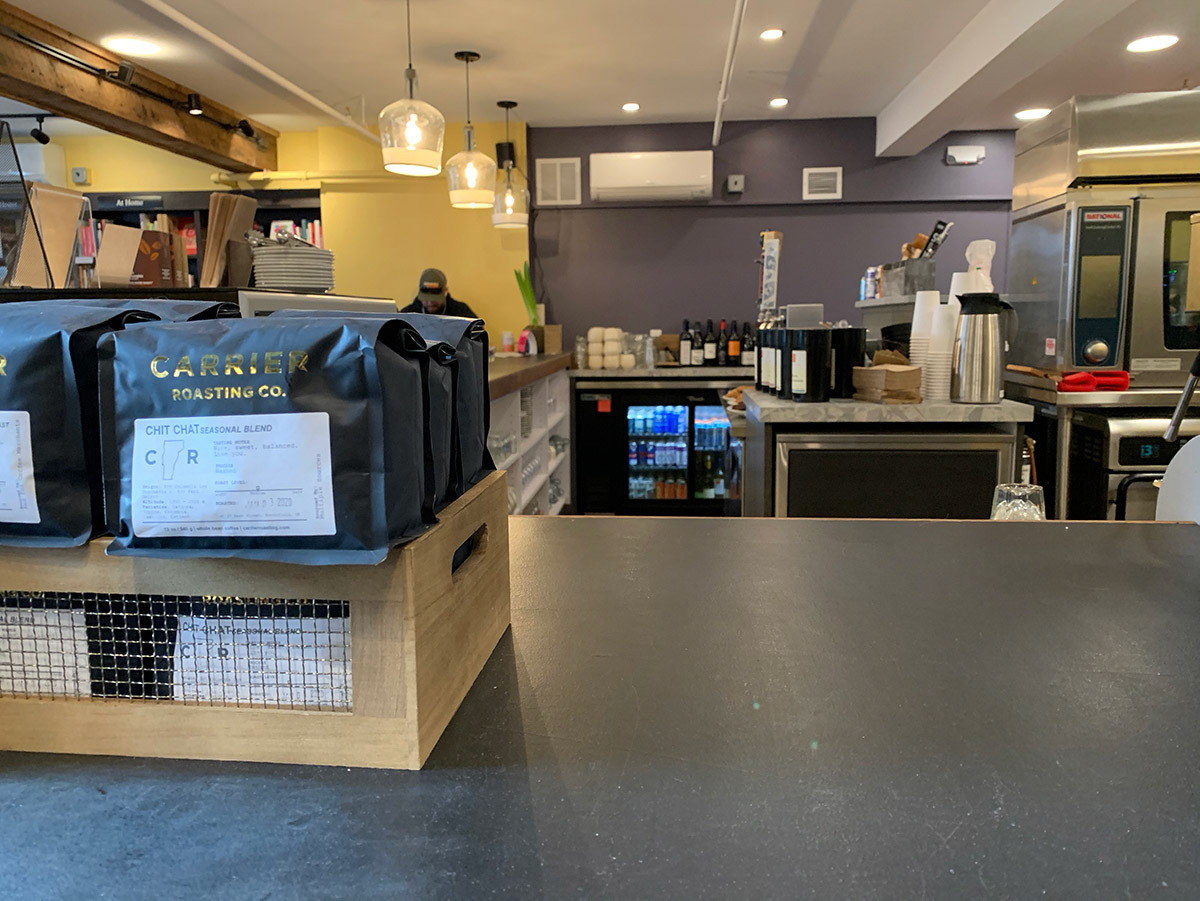 Taylor
:
So, has there been anything about the opening or the process of starting the store that was a surprise or that you didn't expect?
Allie
:
I did not expect so many people immediately to be here and enjoying the space.
Taylor
:
It's absolutely packed in here!
Allie
:
It's a very good surprise, but I was not expecting the volume of people or book sales. There have been the normal small-business owner things, like, a truck just hit our sign, or our books are stuck on a truck somewhere. A mix of good surprises and bad surprises.
Taylor
:
Yeah, I would imagine. You've talked a little bit about curating some of your picks to the area—how would you summarize the Upper Valley in terms of what the most popular requested or sold titles have been?
Allie
:
I feel like we're still getting to know the literary tastes of the Upper Valley, but it's been slightly more literary than expected. People have been really excited about titles from smaller presses, which is great to see, really cool. It's changed so much from the first week when people were buying gifts, and then the second week when it was primarily community members, and then the third week when some of our customer base shifted to students, so we're still getting to know it. But I would say we're a little bit more literary than the average indie book store—or, maybe literary is not a great word to describe it. They're adventurous. We're not selling just the typical indie bestsellers. People seem really willing to try something if it's on a table or faced out, even if it's not something that's a huge seller elsewhere. It's really cool.
Taylor
:
That's awesome, although probably harder to track and target.
Allie
:
Yeah, but so far it seems like we're on the right track with getting to know what people are wanting to read, which is cool.
Taylor
:
And I know you said that you haven't been able to do much reading lately, but what was the last really amazing thing that you read?
Allie
:
Let's see… probably
The Need
, have you read it yet?
Taylor
:
I haven't, but I was just looking at it because I've heard so much good stuff about it.
Allie
:
You would probably really like it if you like Jeff VanderMeer. It's not really the same, but there's a little bit about creepy plants. It's a fast read, literary fiction meets thriller, but then it also ends up being super grounded and about motherhood in a really interesting way.
Taylor:
Yeah, I've had a couple friends rave about that one.
Allie
:
It's not satisfying if you need a neat ending, though. It gets super weird at the end.
Taylor
:
Ooh. I don't need a neat ending. Now I'm even more attracted to it.
Taylor
:
Just a couple more fun questions for you: Do you have any particular habits or rituals around reading? Do you have a book club, do you have a certain spot where you read, or do you have to only read one book at a time, or have several going?
Allie
:
I am a chronic not-finisher. I probably don't finish a higher percentage of books than I do finish. I'll get 200 pages into a book and put it down. Which is maybe a bad quality to have, but also maybe, in my profession, kind of helpful. Because I read maybe 50 pages and then I have a sense of the book, but then it is kind of sad to not know how things end. But, often times I don't even remember how things do end when I actually finish them. I would say, mostly, I'm just a cozy reader. I feel like if I'm going to sit down and read, these days, I want it to be a cozy experience. I need tea or wine and I need a blanket.
Taylor
:
How do you organize your bookshelves at home, or do you have a system?
Allie
:
Alphabetically. At one point I thought, let's try this by color thing and I was like, this is the dumbest thing ever—
Taylor
:
I can't imagine! How would you find anything?! It would be so maddening to me.
Allie
:
Such a bad idea. I tried it for maybe a week and got sick of it. So, I organize it alphabetically, but I have stacks and stacks of stuff that is not on the bookshelf, because the bookshelf is too small.
Taylor
:
Lastly, do you have any reach goals, or dreams for the shop, in terms of— oh, it would make my day if so and so did an event here or stopped by, or—
Allie
:
So, I would have said if Lauren Groff stopped by, but she already stopped by!
Allie
:
A few days before Christmas, and I was over at Lou's, because I just needed to be out of the store and was starving. I had been there for like 5 minutes and I had just ordered, and I got a text from Nichole, our manager, saying hey, come back, Lauren Groff is here. And she's one of my three favorite authors, and I was like, I'm so sorry, I have to leave and I ran back across the street.
Allie
:
I very much fangirled and it was slightly embarrassing, but she was super sweet.
Taylor
:
That's awesome. Alright, so well, now that you've already achieved one—
Allie:
I think my biggest dream for the store is just that it be here for a long time. I'm excited to see how it evolves and I can't wait to see what kind of events we can have. I'm excited that amazing authors have already dropped in, but all of that, the authors, the events, is worthless unless we're here for a long time, so I just hope that the community embraces us.
Taylor K. Long is a writer, editor, and photographer based in Windsor, VT. Her work has appeared in The New York Times, The New York Press, New York Magazine, Bright Wall/Dark Room and more.