These are a few of my dad's favorite things: me (of course), reading the Sunday Globe, springtime, walking in the woods, golf, and the 1965 movie musical, The Sound of Music. 
It's always delighted me that he loves the movie so much, as his next favorite is Apocalypse Now! (1979), but he can also be sentimental sometimes so I wanted to see him enjoy one of his favorite things. I asked if he'd come visit me to see
Northern Stage's production
of the Rodgers and Hammerstein play, and he drove up from Massachusetts for the first weekday preview.
I asked what he remembered of the film. He'd seen it as a kid, probably when he was eleven years old. He thinks he saw it on television when Disney would play films on Sunday nights. It's hard to remember some of the details, but he remembers the way it made him feel.
"It has everything you want in a movie: nice songs, a love interest, it's funny, and they need to escape from a terrible enemy. There was "Do-Re-Mi"… "Edelweiss"… and some other songs. I can't wait to go to the play tonight because all of that stuff will come back."
My dad is the oldest of six children. He remembers playing out favorite scenes from the movie with his siblings. He loved the story of a governess coming to take care of the seven von Trapp children after their mother died and their father was too busy, and too much of a manly man, to care for them.
It was a rainy Wednesday night, but the Barrette Center for the Arts in White River Junction was packed. The performance has a rotating cast of von Trapp children and the kids of the next night's show sat in the way back. After the prelude, the play begins with Maria, a young postulant, out on a lark through the Austrian Alps. She is played by Kerstin Anderson, who had the same role in Jack O'Brien's touring company. She smiled brightly as she reached the chorus to the titular number "The Sound of Music," and I instinctively turned to my dad and saw him smile too.
The first act ends with Mother Abbess (Alyson Cambridge) singing a soaring "Climb Ev'ry Mountain."  We whooped and cheered. At intermission, my dad leaned over to chat to the women next to him. They had forgotten that the play involved nuns and the interstitial songs in Latin. Later, he remarked how nice it was to chat with other theater-goers. "Everybody's out having a nice time. That's what you get seeing a play rather than a movie in a theater." 
One of my dad's favorite numbers comes towards the end of the play, when Captain von Trapp (Matt Faucher) sings "Edelweiss." 
"It was so beautiful. It was 'America the Beautiful,' but in Austria. He loves his country. It's a beautiful place. But what he's saying is that he's getting out of there. He has to leave it because the Germans are coming. When I first heard it as a kid, I could feel tears in my eyes, you know, emotionally. I could feel it happening again."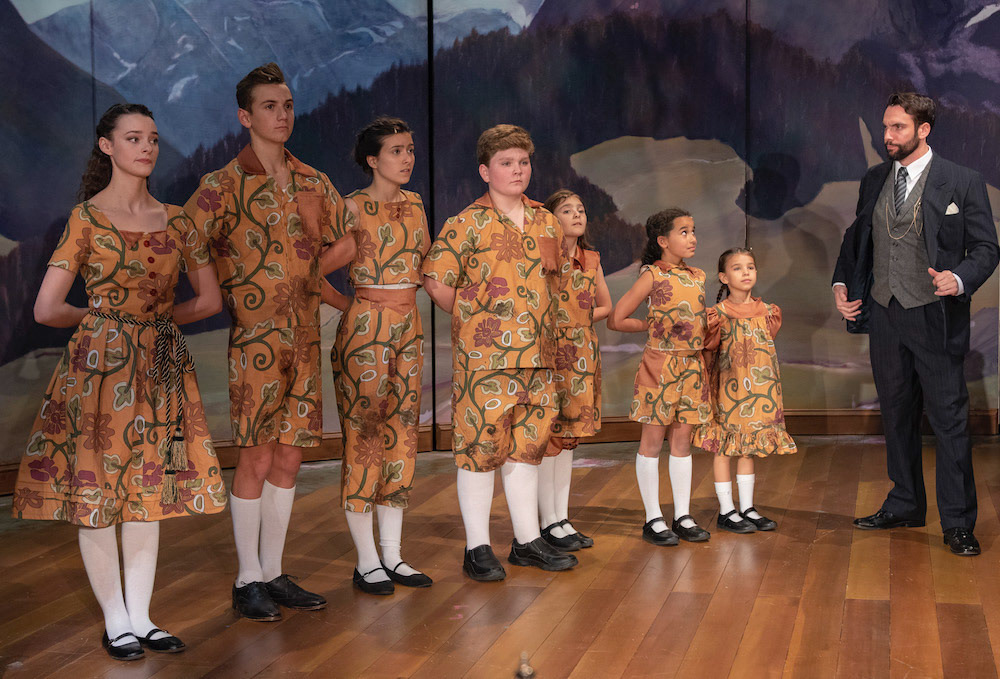 After the show, we popped over to the newly opened Wolf Tree. He'd never been to White River Junction and was surprised by all the shops and restaurants downtown. He ordered a vodka martini and talked about how impressed he was with the production and the cast. It made him want to seek out theater back home in Massachusetts.
"I should be doing more stuff like this. There are a lot of little theaters and concerts that you just don't go see. You think you'll always catch it next time. I heard there's a theater company in Norwell [Massachusetts] now. Or maybe I should just move to - what is this town - White River Something?"

The Northern Stage production of "The Sound of Music" is directed by Maggie Burrows. It runs from November 20th, 2019 - January 5, 2020 at the Barrette Center for the Arts in White River Junction. There is a sensory friendly production on Saturday December 7th at 2pm. 
Junction Magazine Editor Isaac Lorton is the Marketing Associate at Northern Stage.
Colleen Goodhue is a videomaker and writer living in West Lebanon, NH. She loves archives, long layovers, and all kinds of friendly competition.  She performs with Valley Improv, the Upper Valley's best and only improv troupe. 
​​​​​​​