Dar Tavernier-Singer and John Singer had been living in Brattleboro for fifteen years, cutting and pasting multiple jobs, before they took the leap to start their own specialty chocolate company in fall 2014. With a fierce love for local food, art and community, Dar and John are committed to finding new ways to excite the palates of their fellow Vermonters and beyond. Their chocolate, like their partnership, is nothing short of inspiring.
Why did you choose to work with chocolate?
Dar
: In some ways, chocolate chose us. We've always been interested in food. When we were living in San Francisco during the nineties there was a big food boom—there was a lot of interesting stuff going on and a lot of cuisines being mashed up. We moved here because of the food, which sounds crazy, but Lightlife started out just over the border in Western Massachusetts, and there were a couple other cool food companies. That gave us incentive to come here and check it out. And it sounds silly, but we never left. The more we learned about the food culture, the more excited we became. John's first job here was with Mocha Joe's, and I was at the Co-op for a while. I think people responded to chocolate. There was a niche. There was nobody doing it when we started getting serious about it.
What are you making?
Dar
: This is a puff ball mushroom. Many of our mushroom guys have actual mushroom inclusions in them. These have lots of Vermont dairy, white chocolate, raw Vermont honey and a little bit of Spanish saffron.
What are some of your favorite local ingredients?
Dar
: We love this honey from Singing Cedars Apiaries—it's from an Abenaki family. It's so rich and delicious. We like Putney Winery's Pommeau, which is made with apples from Scott Farm, and Saxtons River Distillery's Sapling Maple Bourbon. We make our own extracts out of local herbs, too. We have mint from Dutton's Farm and basil from Walker Farm. We work with Terrafunga, a local mushroom foraging and cultivation business that we really love.
You make one truffle with turnip and use mushrooms in another. How do these more experimental and savory chocolates work out?
Dar
: Some Swiss students came into the shop with their chaperones from Geneva, and this one man came up to ask me, "You're doing things that are really challenging and different here—are you afraid that you will have people reject it?" Absolutely! I have to think, am I pushing this too far? Just because I like the taste, does it mean that other people will? There are a lot people who are looking for the Hershey bar experience. We had one woman come into the sale last year around the holidays and she said, "Don't you have anything normal?" And we were like, "How do you define normal?"
John
: We have found that people do just like plain chocolate bars.
Dar
: We've also found that if you get people to try things that they don't think they're gonna like or that sound weird, most of the time people actually like it. Then it becomes an exciting thing for them. That's exciting, to push people's limits that way. And most people will try chocolate.
Does the chocolate world inspire you?
John
: Dar was saying for a while that she's inspired more by chefs than by chocolatiers.
Dar
: It's not that we don't think that chocolatiers offer anything that's interesting to us, but we prefer more savory flavors and different kinds of inclusions than what are more traditional. For me, it's more based on sitting down in front of a savory meal or what I want to have for dinner—that's the kind of flavor combinations that inspire me.
When you're at the farmers market, do customers ask lots of questions?
Dar
: Oh, yeah.
John
: When we first started out we didn't know as much as much as we know now.
Dar
: A lot of the places that we're sourcing from don't have fair trade certification. However, they pledge to be fairly traded and that they don't use child slavery and that they pay their workers a fair amount. The Venezuelan company that we use is run as a co-operative. It's owned by a Venezuelan family, so they give the money back to the cooperative and the people who work there. A lot of these places have had third parties go in to look at their process. They're well respected in the chocolate community. I want to make sure people know that we're not sourcing from one of those large farms which use child slavery, where people never even get to taste the final chocolate product. We're careful about how we choose and where we get it from.
Your production space is in this cool old building outside of town, but in the front of your kitchen you have a little shop and an area for coffee service. Will you talk about that?
John
: We make coffee for people out front. We do pour overs. It's pretty precise coffee making. Typically, I'll go down to Mocha Joe's when they've just finished roasting. I'll go through and smell and pick out what I think is good. Then I grab specific origins and bring it here to share with people. When we started, I was actually roasting all the coffee myself in the backyard, bringing it in, and making the coffee. Then we were advised by our business person that it was a little silly to be…
Dar
: …diversifying so much. We were getting busier and busier, and it was becoming impossible. You were doing night roasts. It was ridiculous.
John
: I spent Christmas day roasting coffee. The coffee was really good, because I was getting specific farms' coffee. Now I'm going through local roasters and picking specific coffees that I think are fantastic. But this is a factory shop, not a cafe. We sell chocolate here, that's what we do, and then we provide coffee as a thing that goes with the chocolate.
Dar
: A lot of people from the building come down.
John
: It's kind of like a Cheersscene, where people come in and hang out and say what's going on with their lives.
Dar
: These are people who we want to see, who we want to talk to, who are really interesting and are doing really fascinating things. It's a rich environment. That adds a lot of value for us.
John
: Then we have people who look up: chocolate, Vermont. They'll go through Google, go through Yelp, and get off the interstate and try to find us in this maze building.
Dar
: They look bewildered when they come in the door, but they're happy when they arrive. It's often an adventure for them. People are always fascinated when they say, "Do you two make everything back there?" And we say, "Yes!" Sometimes they poke their heads in, but usually we're in production at the same time. We try to think of stuff we can do where we can be interrupted.
Is it like a dance?
John and Dar
: Oh, yes!
Dar
: Sometimes we're back here, madly decorating a bar that was just poured, and somebody will wring the bell out there. We'll have to say, "Just a minute!" And we'll have to do everything that we needed to do, then take our gloves off and run out there to help them out. People have been very understanding and patient.
You're self taught, right?
Dar
: Yes. I started learning in my home kitchen. I was giving things away at first as gifts. I could feel very free to make mistakes. As I started getting serious about it, I was buying more books, reading everything I could, talking to people and trying stuff out.
You must be learning a lot about local businesses. Is it illuminating to have lived in the same area for so long and then have these new windows into the community?
John
: That's one of the key things that's really interesting. We've been here in Brattleboro for seventeen years.
Dar
: We've been shopping at the farmers market for years and years.
John
: It's totally different opening up the relationship as purveyor of something. But the other thing is, having been here so long and establishing ourselves in our community, the community's support for what we're doing is amazing. If we moved here from San Francisco and tried to open a chocolate place it wouldn't have been the same. It would've been, "Oh these new people from San Francisco…social capitalists." We've invested in the community by being present for a long time, and I think that really changed how people reacted to this. The support has been incredible.
Dar
: We're so lucky.
John
: We are. It doesn't mean somebody can't move here from some place else, get massive support and be successful, but it's not quite the same basis on the social capital level. It comes with people knowing you across the board for what you've done here. So they'll be people who say, "You were the coffee roaster!" Yeah, I was the coffee roaster.
Dar
: I worked in the Co-op the first year we moved here. I met so many people, which was great. But people still say, "Oh yeah, do you still work at the Co-op?" And I'm like, "That was sixteen years ago!" And Peter Havens, too—that was fantastic to be in that food culture.
Do you feel like you've reinvented yourselves here?
Dar
: In some ways. It seems like everything that we'd done and that we were interested in all came together in some crazy way, and in some way that I couldn't have anticipated. I had jobs in the art world, graphic design and food, and this combines all of those things together in a really satisfying way.
John
: It's allowing us to have an integrated presence of who we are. I can still be a musician. When I was in business management, you always had to go, well, can I be a weird sound musician as well as being the business manager of this nationally known company?Whereas here, I can be a chocolatier and make weird music. The other thing is I'm not working for somebody else. We're partners and we are it.
Is this the first time you've both worked for yourselves?
Dar
: I was working in graphic design, and as an artist, you're always working for yourself, right? But it was always in addition to other things that were actually making a living for me.
John
: On the other side of it, I think it's very clear to anybody who's doing business in Vermont, you pretty much are seven days a week. Many of our friends who have children said to us, "We understand what you're going through." They wanted to do a meal train for us.
Dar
: They're like, "It's just like you have a kid!" You don't just go home and leave it behind. It comes home with you, and it wakes you up in the middle of the night. I feel like we're still doing three jobs, it's just that we're in one company doing all the positions. When I gave up my graphic design side job, I realized, what am I doing here? And why do I feel so overwhelmed? It was because I was doing several different jobs and John was doing several different jobs. That's part of the reality of living here and making it work.
John
: Everyone's putting things together to make it work. The trade-off is it's a really beautiful place to live with really amazing people.
When do you have time just for yourselves?
John
: Our week starts on Sunday, and it ends Saturday at the end of the farmers market. We're really religious about taking from 4:00 p.m. on Saturday afternoon until 8:00 p.m. that night, or until we fall asleep, as our day off.
Dar
: We don't schedule anything, we don't plan anything, and we cancel things if we have to.
How is your business evolving?
John
: We're two years old, and we definitely have plans for where we'd like to be at five years out. We would like to hire people. It's always been part of our business plan that when we get to the point of hiring people, we want to do right by them. We want to provide a livable wage and, when we can afford to do so, we'd like to provide health insurance.
Dar
: We've purposely been slow and measured about things. We started with a double burner, we started with hand tempering. We're trying to be slow and measured about our growth. That also means being slow and measured about getting the word out. You don't want to be overwhelmed with orders, but it's hard to say no when you first start a business. You want to get yourself out there.
Community is clearly very important to you, correct?
Dar
: We've stayed in Vermont for the community, that's the bottom line. People here seem to be open and raw and deep. I love the New England work ethic. This place attracts people who have a really alternative and healthy approach to life. I love the politics here. I love that it's a liberal community. I love that people really help each other out. And people like to talk about ideas here. They like to get excited about ideas, and a lot of people are creative and have an artistic life. That's really exciting, too.
How do you feel you're contributing to the community?
Dar
: I always think: how do you contribute to a community making chocolate? Does anyone need chocolate? No, of course not. If I'm trying to think of something for someone who has everything, or something that's thoughtful that is a luxury that they'll enjoy and they probably won't want to get for themselves—having chocolate available in that way, for people to use for gifts, I think that's really nice. And especially, thoughtfully-made chocolate that's using local ingredients and doing something interesting.
John
: I also think we're contributing in a culinary sense. And I think we're bringing something interesting.
Dar
: That's a hope of mine. That's something I'm constantly trying to do.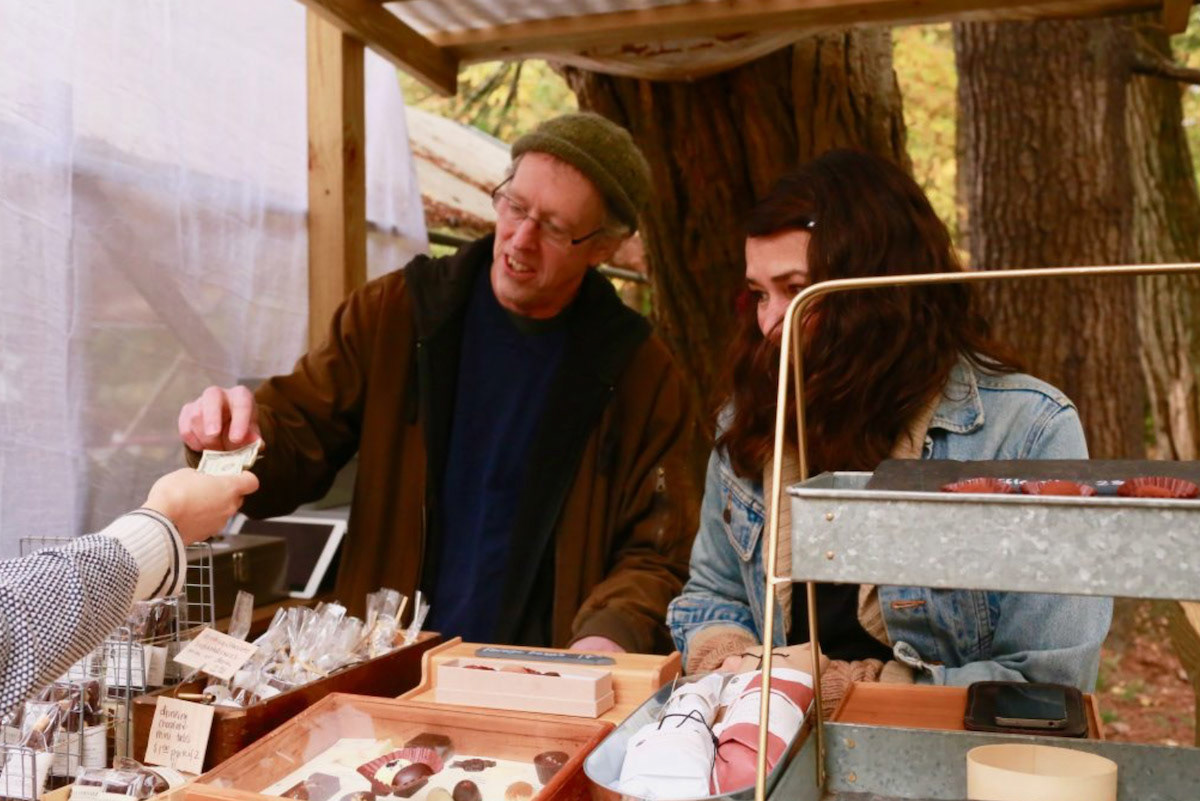 You've been together for how many years?
John
: Twenty-one years!
Dar
: And we still like each other.
John
: She even blushed!
Is it exciting to reflect on how much you've been able to create with just the two of you?
Dar
: If we had imagined, even ten years ago, we would go into the chocolate business together, we would've just laughed. We would've never imagined this. We would've imagined going into some kind of business together, but something specifically chocolate? And this approach? It all just strangely seemed like we were moving toward that in some way, and then it happened.
You're chocolatiers. You're married. You're in a small town in New England. How could your lives be any more romantic? Does it feel romantic?
Dar
: In some ways, yes. And in other ways, no. Like with tempering, it takes an hour and a half, and it could go wrong. A lot of times you don't know until after the fact, until you've made everything, and that's discouraging. You're losing a lot of money and time and thinking you did everything right, but something happens that throws a wrench into the works. That part doesn't feel very romantic. That feels like a regular workday where something went wrong and you have to fix it and figure out how to make up for that. But, for the most part, it is. Most people that come in to buy chocolate are in a good mood or curious or happy. And I look forward to coming to work everyday. When I walk into the room I'm always just completely thrilled that this is our space, and I say, "Hi space!"
John
: That is, everymorning. Every morning she'll come in and say that.
Dar
: It's really fun thinking of new recipes and then actually trying them, but then there's the reality of production. It's really not a bad thing to have to think, Oh, no! Now I have to strew flower petal on chocolate bars. And yes, you do hundreds of them, and maybe after the fiftieth it's not quite as interesting, but it's still the most interesting thing I can imagine doing with my day.
About the Author/Photographer: 
Sara Brooke Curtis
 is an award winning independent radio producer and writer living in Vermont. Her radio stories have aired on The Splendid Table, KCRW's UnFictional, KCRW's Good Food, ARRVLS, and others. She is a part of 
The Heard
 podcast collective and is currently in production with her podcast Today's Special. Listen to more of her work at 
sarabrookecurtis.com
 and find her on 
Twitter
 (
@sbcsays
) and 
Instagram
(
@sarasees
).
James Napoli is the founder of Junction Magazine. James has since moved to Minnesota and all content is managed by a collective of artists. Read more about them here.