Simeon Bittman has cooked in some prestigious establishments—Le Bernardin, Greens, Blue Hill at Stone Barns, Kripalu Center—but it hasn't been an easy ride. There were times when he considered leaving the food business entirely. Eventually, Simeon always found himself back in the kitchen. Now the chef—who once spun drum & bass records under the moniker "DJ Snax"—heads the kitchen at Sterling College, the Northeast Kingdom school widely acclaimed for its commitment to healthy, local food and sustainable agriculture. We met up for turkey albondigas and herbed rice at Dunbar Dining Hall on Sterling's campus in Craftsbury Common, Vermont.
What set you down the path to becoming a chef?

I took a few years off from college and went to Boston to try to be a rock star. The band broke up within two months, so I bounced around as a waiter and then went back to school in the fall of '98. I got a job working the register at Amber Waves in Amherst, MA. It was a short order Pad Thai joint—college town, young guys, lines out the door, huge woks just blowing BTUs of heat. They served all the classic dishes of China, India, Korea, Indonesia. I really wanted to cook there.
How did you end up moving from the register to the kitchen?

I just kept telling the chef that I wanted to cook. There were times when I could get my hands on some of the cold apps, like spring rolls. I would bust those out, and I guess they came out okay. Then they threw me on the line as a trial. I was rocking the wok station. I was in training, so all I had to do was the first few steps of the stir-fry—the garlic, the protein and veggies, then the noodles and Pad Thai sauce. Give it a couple tosses, pass it over to be finished with the egg. I also had to decipher the tickets, put them in the right order, and figure out how to consolidate them. We were blasting Black Star in the kitchen, that first album with Mos Def and Talib Kweli. And we were just killing it. It was a wild night.
What did you do next?

I really wanted to get the Pad Thai dialed in, so I went home and started practicing. I got a wok. I liked cooking, but at the time I didn't think I was going to continue with it. I just thought I should learn how to cook because I was graduating soon.
What were you studying at UMass?

I created a degree: "Multimedia Production and Event Coordination." I took classes in journalism, computer science, web design, animation, electronic music production, TV broadcast. For one independent study I helped launch a website that covered the music scene of the Pioneer Valley. We organized these big parties on campus with multimedia artists, DJs, projection and lighting people—like a big gallery and dance music event.
Were you performing then?

I was a DJ. I spun drum & bass at house parties. My name was DJ Snax, because I was always cooking something. And I'd eat pizza while spinning sets.
What did you do with that multimedia degree?

Nothing. Well, I was a sound designer for a few plays in Boston. At that point I was realizing that I wanted to pursue cooking and got a job at Icarus in the South End.
What did you do there?

Garde manger—it's like a cold app station, but I also did desserts and prep.
How were you learning to cook—from the chef at the restaurant? Or teaching yourself at home?

Both. I was learning risotto and how to make polenta set right at home. I'd go to the library and scour cookbooks. A good friend gave me a copy of The Soul of a Chef. It follows a few contemporary American bistro chefs and tracks the Certified Master Chef Exam process at the Culinary Institute.
Is that what inspired you to go to the Culinary Institute?

Yeah, but the chefs at Icarus, including a few who had gone to culinary school, told me, "Don't go to culinary school. It's a waste of money. Just learn as you go. If you've got talent, you'll make it. Cooking's not an art, it's a craft—just learn the craft." So I didn't go for a really long time. I just kept cooking.
Why did you finally decide to apply?

I actually thought that I was going to get out of the restaurant business. It was exhausting. It wasn't going to make me enough money. It was like a glass ceiling. I was in San Francisco, in my early 30s, and had just gone through a big breakup. I was interviewing at restaurants, but I was thinking, All these chefs are assholes. I don't know if I want to go this route.
Haven't you seen Carlito's Way? You always get sucked back in.

Totally. Yeah, it was Carlito-style. I thought I was going to become a therapist. I started volunteering, taking prerequisites for grad school, and ended up back in the Berkshires, where I'm originally from. It came down to taking a job at a youth halfway house or getting a $9-an-hour job at this little French bistro. I was like, "Fuck it. I'm going to fry fries and make hanger steaks. I'd rather learn how to make pâté than how to restrain a kid." To me, that was so telling. I figured I should make the most of being in the food business and get a degree to fill in some of the holes in the foundation of my cooking abilities.
Was culinary school worth it?

Yeah, it was. You get thrown into actual restaurant production settings, and the standards are really high. You work under accomplished chefs—that was pretty inspiring.
What did you do after you finished the program?

I was getting into catering, even while I was still in school. It was a cool way to make a couple bucks. I started seeing Natanya just before cooking school—she really kept me solid through school's challenges. She's my guiding angel, whispering to me to keep going, no matter what. We put our heads together and came up with our own company, Folklore Catering. We were doing small events and delivering soup in the Hudson Valley. We kept the menus really local.
How did you end up in Vermont?

Natanya was working at Bennington College, but I didn't know anybody there or have any seed money, so the catering business was put on hold. A friend and mentor, whom I had worked with at Kripalu Yoga Center, needed help at the Alzheimer's Resource Center in Connecticut, so I took a detour to work there as an interim executive chef / senior sous-chef. I did the menus, ran the crew, and organized the ordering of product. I would call up farmers and drive down to go hang out with their pigs on the farm—that was the coolest. I was about to fully step into the executive chef role when my friend Jana sent me an email about this new position at Sterling. It was exactly what I wanted. I could work with a cool population and source almost everything locally. I was like, "That's it—we're moving up to the sticks!"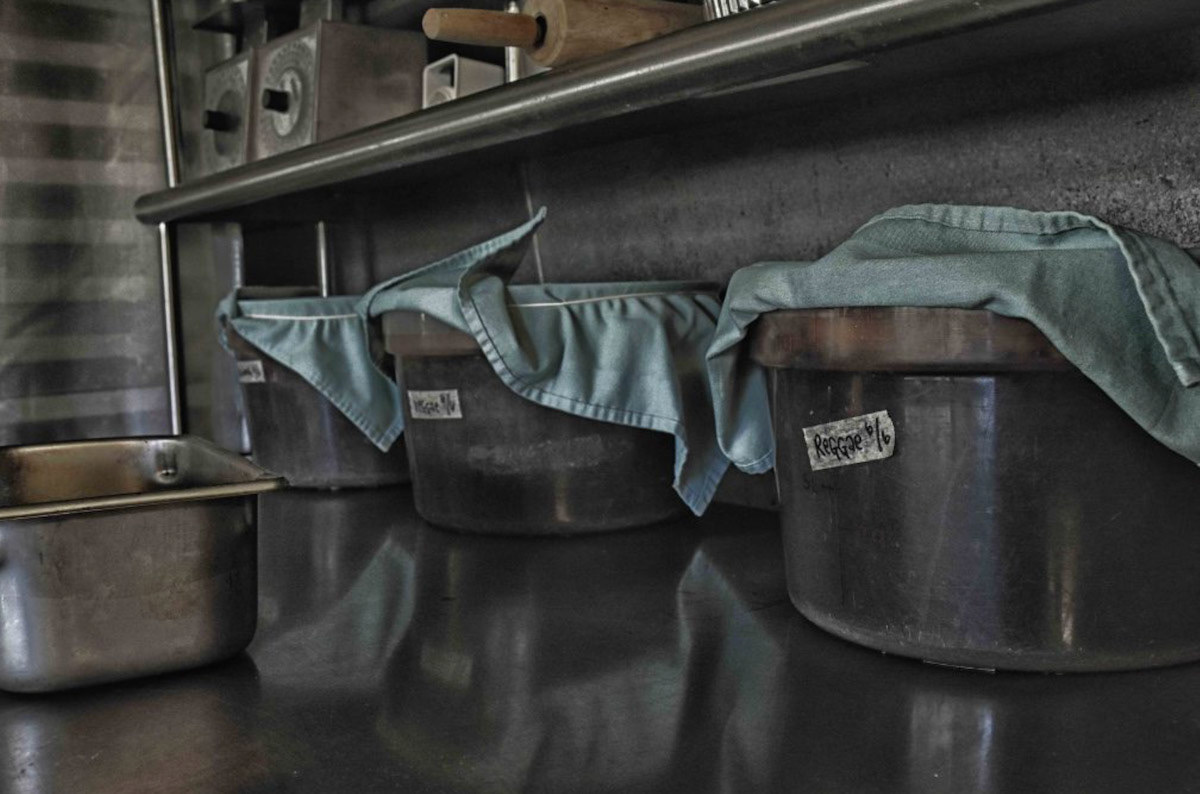 What's a typical day look like for you?

The typical day is atypical. It's exciting in that regard. We recently got a big grant and matching funds to renovate the kitchen, so that's been my latest project. This morning I was working on the floor plan and finalizing the specifications for all the new equipment. Most days, I like to walk into the kitchen first thing in the morning to see what the crew's up to. There are sous-chefs, second cooks and dishwashers—I rely on those guys. I'll set up the menu and check in while they're cooking.  I'm on the floor about two-and-a-half hours each day.
Is the crew entirely made up of Sterling students?

Sterling is a federally-recognized work college, so the students all work various jobs and help with chores around the school. There are student work positions for prep cooks, breakfast cooks, brunch cooks, and a baker's apprentice, too. The work study goes directly to paying down tuition costs, but it also gives everyone a stake in the school and it brings together a small community through work.
What percentage of your ingredients are sourced directly from Sterling's farm?

Between 20 and 26 percent right now. I work closely with the farm manager, and this year we're trying to get up to 35 percent. On top of that, we get a big percentage from local farms—Pete's Greens, The Farm at Wolcott Pond, Heartwood Farm, Spring Hill Angus, Black Hill Angus. We source from up to 30 local farms at any given time.
What changes have you brought to Sterling's kitchen during your first two years here?

I feel like I've brought playfulness to the menu, while also creating more regular menu rotations. The menu items are a little more interesting, worldly and contemporary.
Is there a formal process for getting feedback from the community?

We do quarterly feedback surveys that are sent out to the whole school. People do not pull their punches around here. They'll come right into the kitchen and tell me what they think.
Are there any menu items you were excited about but that didn't go over well?

I just put a rustic Italian milk-braised pork on the menu, but people think it's gross and not fitting with the season. I'm going to probably pull it. I have to learn to put aside what I think is awesome for the community sometimes. There's also a suggestion box, and people send me emails or come to the office with suggestions. A lot of them are pretty good, too.
Which menu item has been a surprise hit?

It's always stuff that I thought would be incredibly boring, like taco bar. Taco bar smashes, every time. I'm about to head over to the taco truck at Hill Farmstead right after this interview.
It's hard to go wrong with tacos.
What's been the hardest part of your job?

This is a very different community and a very different cooking environment than any other food service setting. People here treat each other respectfully. It's about being conscious in communication and being compassionate, kind and patient. Thus, that's how the kitchen needs to be run. It's not as much of a militant hierarchy, where the chef can yell and have a temper in order to get things done. That's where I came from.
How do you motivate your crew to get things done here?

I try to bring in people who want to cook. It's not about the chef saying this is what it is, but about initiating ideas and guiding the crew to come together and collaborate to make something really awesome. I lay out the menus, almost like a basic template, and then let the crew go for it. You don't have to totally follow the recipe if you can think of a way to make it better. These guys do that, for the most part, and I think that's what makes them happy.
This past year you also became a father. How's that going?

It's pretty sweet. I learned how to cook one-handed. He'll insist that I pick him up so he can watch everything I do. I hold him there while I'm cooking and he's totally quiet, absorbed.
Does he try all the food you make?

Yeah, he seems to be down with all kinds of stuff. He hammered some liver recently.
I saw a flyer for a recent event where you were billed as a special guest beatboxer. What's that all about?

Sometimes I do a little beatboxing in the kitchen here. Everybody's like, "Dude! What are you doing?! You're spitting all over the food and setting a bad example!"
What's the best part about being executive chef at Sterling?

I think what I enjoy most are the changes that are happening in me. This place is teaching me how to be a little more mellow about cooking and how to be much more collaborative when working with people—and how to be kinder, in general.
James Napoli is the founder of Junction Magazine. James has since moved to Minnesota and all content is managed by a collective of artists. Read more about them here.